SOCIM0013: Introduction to Qualitative Research Methods in the Social Sciences
Teaching blocks 1 & 2 2017/18
General reading and resources

11 items

This unit is accompanied by key readings covering methodological issues that you are required to read for each seminar, available via the Talis Reading List. You will need to conduct your own bibliographic research as well to prepare for your summative assessments. In addition, there are some introductory texts that might help you to get started.

WEEK 1 Introduction to qualitative methods and research design

28 items

This week, we address the questions: what is qualitative research and why should we do it? What is the basis of qualitative work and how has it evolved? We will consider the advantages and disadvantages associated with its use in social science research and the range of techniques available. Issues about reliability and generalisation will be explored, as well as questions concerning what can and cannot be achieved using qualitative methods. The lecture and seminar will include a focus on the processes of conducting research and features of qualitative research design.

Essential reading

2 items

1. What are the strengths and limitations of qualitative research approaches?

2. What research problem are you engaging with?

3. Would a qualitative approach enable you to address this? (How?)

Recommended reading

6 items

If you would like an introductory text to the issues discussed in this session to get you started, you might find it helpful to read:

Qualitative social research: contemporary methods for the digital age - Vivienne Waller, Karen Farquharson, Deborah Dempsey 20169781473913554,9781446258835

Book Recommended Part 1: Getting Ready (includes: '1 The foundations of qualitative research', '2 The aims of qualitative research', '3 From topic to research design', '4 The politics and ethics of qualitative research'),

Audio-visual document Recommended If you would like more in-depth resources, then do consult the journal

Research methods in politics - Peter Burnham, Karin Gilland Lutz, Wyn Grant, Zig Layton-Henry 20080230019846,0230019854,9780230019843,9780230019850

Book Further

Qualitative researching - Jennifer Mason 2002076197427X,0761974288,9780761974284

Book Further 'Introduction: The Challenge of Qualitative Research', Chapter 2 'Designing Qualitative Research', and Chapter 3: 'Data Sources, Methods and Approaches'

Interpreting qualitative data - David Silverman 20149781446295427,9781446295434

Book Further Chapter 2: 'What is Qualitative Research?', Chapter 12: 'The Potential of Qualitative Research'

Qualitative research 20161473916577,9781473916579

Book Further Chapter 2: 'What You Can (and Can't) Do with Qualitative Research', Chapter 6: 'Selecting a Topic', Chapter 7: 'Using Theories', Chapter 8: 'Choosing a Methodology', Chapter 11: 'Writing a Research Proposal', Chapter 16: 'Evaluating Qualitative Research'

WEEK 2 Qualitative Interviews

23 items

This week, we consider the use of qualitative interviews. The pros and cons of various types of interview techniques will be considered, including structured, semi-structured and unstructured interviews and life-histories. We will explore the skills that make for good interviewing, such as how to keep 'on target whilst hanging loose', interviewing on sensitive or difficult topics, establishing a relationship with interviewees and interviewer-interviewee relationships, as well as issues relating to elite interviewing.

Essential reading

3 items

1. What are the advantages/disadvantages of structured, semi-structured and unstructured interviews?

2. How might researchers go about building trust and rapport with an interviewee?

3. Should researchers disclose personal information about themselves in an interview?

Recommended reading

4 items

Qualitative interviewing: the art of hearing data - Herbert J. Rubin, Irene S. Rubin c20121412978378,9781412978378

Book Further 'Foundations of Qualitative Interviewing', 'Interviews as Guided Conversations' and 'Choosing Interviewees and Judging What They Say'

WEEK 3 Focus groups

22 items

This week, we explore the uses and limitations of focus groups, paying particular attention to why researchers use focus groups, considerations concerning how to manage and run focus groups, and methodological and conceptual issues relating to the nature of groups and how data in focus groups can be used or interpreted.

Essential reading

3 items

1. What kinds of research questions could focus group research usefully address?

2. What kinds of group dynamics might you encounter in focus group research?

3. How, as a researcher, would you respond to them?

Recommended reading

3 items

WEEK 4 Ethnography

44 items

This week, we consider the use of ethnographic techniques within social science and the various types of observation that can be utilised within fieldwork including participant-observation and covert observation. We pay particular attention to the ethical demands of ethnographic research, issues of access, the key role of gatekeepers, getting on in and 'getting out' of, or disengaging from, the field.

Essential reading

3 items

1. How should ethnographers handle questions of access, transparency and confidentiality and researcher-respondent relations in their research?

2. Is covert participant-observation ever justifiable?

Recommended reading

2 items

Walsh, D. (2004) 'Chapter 17: Doing Ethnography', in C. Seale (ed.) Researching Social Life (London: Sage)

WEEK 5 Documentary and Archival Research

32 items

This week, we discuss the use of archives and differing methods of documentary analysis. The range of documentary sources relevant to social research projects is immense, extending from personal papers such as letters and diaries, to intermediate materials like legal records, archives and newspaper reports, to official documents such as national and local government materials, as well as includes datasets generated by government-sponsored censuses and surveys. Recently, paper and film-based sources have been augmented by the rapid growth of electronic databases, accessible through the Internet, and, particularly recently, secondary data sources. With regard to the latter, we consider debates among social scientists on whether the use of secondary qualitative data is beneficial or harmful to social research.

Essential reading

3 items

1. What kinds of documentary sources could constitute data?

2. How might you interpret the significance of documents?

3. What can/do documents do?

4. In what circumstances would you consider secondary data analysis?

Recommended reading

2 items

Working with qualitative data - William J. Gibson, Andrew Brown 20091412945712,1412945720,9781412945714,9781412945721

Book Further Chapters 5 and 9

Seale, C. (2001) 'Chapter 26: Using data archives for secondary analysis', in Seale, C. (ed.)

Thompson, P. (2000) 'Experiences of Re-analyzing in Qualitative Research', Forum: Qualitative Social Research 1 (3)

WEEK 6 Reading Week

1 item

WEEK 7 Visual Methods

17 items

In this session we consider the use of visual research methods – including where visual images are utilised by researchers as a form of data elicitation as well as where visual images are generated as a form of data that is to be analysed. We will consider questions such as what can researchers achieve using visual methods? How might visual data be collected, and what kinds of issues should researchers consider in relation to data analysis? Ethical issues concerning the ownership and sharing of visual images in the research process will be addressed.

Essential reading

3 items

1. For what kinds of research questions might the use of visual images for the purposes of data-elicitation be useful?

2. How/why might researchers use visual images as data?

3. Are there any pitfalls in using visual methods?

4. How should researchers handle issues of confidentiality/consent in using visual data?

Recommended reading

3 items

Wiles, Jon Prosser, Anna Bagnoli, Andrew Clark, Katherine Davies, Sally Holland, Emma Renold (2008) Visual Ethics: Ethical Issues in Visual Research, ESRC National Centre for Research Methods Review Paper, National Centre for Research Methods (NCRM/011)

WEEK 8 Qualitative methods in practice

1 item

This week, we will focus on the practical use of qualitative methods. In preparation for this week's seminar, please select one of the methods covered in the unit so far, and conduct a trial use of this method. You will need to prepare some preparatory notes and reflections on the method afterwards to bring to the seminar for discussion with the group.

Please consult Appendix 2 of this unit guide for advice and instructions for this week's task.

In the seminar, we will discuss your notes and reflections and consider what the use of particular methods in practice reveal about the value and limitations of particular methods.

Week 9 The digital as a resource and an object of study

24 items

In this session, we consider issues relating to digital research. We will look at the digital mode of communication and society as a tool and as a site of research. We will be addressing 'the politics of method' as the apparent need in new methods for researching the digital and digital research, and the difference between various ways of studying digital society – e.g. focusing on how people use digital media and with what consequences, or analysing digital data to assemble the social in either qualitative or quantitative ways, or both. The public/private trap as well as various methods to collect digital data will also be discussed.

Essential reading

3 items

1. Why might researchers conduct research online?

2. What particular ethical issues are raised by internet data collection?

3. Is online research particularly different to offline research?

Recommended reading

3 items

WEEK 10 The ethical researcher

24 items

In this session we will reflect on the various aspects concerning research ethics that we have addressed throughout this unit, to consider the range of issues that researchers need to consider in developing ethically grounded research, including informed consent, transparency, confidentiality, power relations, research on and with marginalised groups, the purposes of research, research with powerful groups and elites, and the politics of doing research.

Essential reading

3 items

1. What aspects of your research raise ethical issues?

2. What are the ethics procedures in the School and how would you apply them to your own research? Are they adequate?

3. In what ways might the researched have, or lack, power within the research relationship? What are the implications of this for developing ethical research practice?

Recommended reading

2 items

Women on the line - Miriam Glucksmann, Ruth Cavendish 20090415476410,0415476429,0203883837,9780415476416,9780415476423,9780203883839

Book Further Introduction

WEEK 11 Researcher-researched relationships

48 items

This session will develop our focus on questions of the power relations of research and relations between the researcher and research participants. In particular, the session will consider how the researcher's identity, subjectivity, politics and ethics can shape the research process, and why questions of reflexivity have become so central to qualitative researchers, what kinds of relationships researchers build with research participants, including respondents and gate-keepers; issues of 'giving back' to researched groups; and we will discuss ideas about how to generate relationships and practices of mutuality and reciprocity in small to medium scale research projects such as those which might conducted within a Masters or doctoral research programme. Some key questions that will be addressed include: what are the implications of insider and outsider research? What issues should researchers consider when researching 'across difference'? What are the challenges of 'same-ness' for researchers carrying out research as insiders? Should researchers take sides? Should research be politically committed? What and who is research for?

Essential reading

3 items

1. What issues should the researcher consider when researching participants that are different or similar to them?

2. Is 'insider research' easier than 'outsider research'?

3. What kinds of relationships should researchers have with the researched?

4. Does research ever particularly benefit the researched? Can you think of any examples?

Recommended reading

5 items

Anderson, B. (2001) 'Just another job? Commodification and domestic labour', Gender and Development 9 (1)

Foreword - Calhoun, Craig

Chapter Further

Partington, G. (2001) 'Qualitative research interviews: identifying problems in technique', Issues in Educational Research 11 2 32-44

Week 12 Reading Week

1 item

No lecture or seminar this week.
All rights reserved ©
Profile Required
Reading intentions and notes are stored against your user profile. Please create a profile to use this feature.
My notes
You must be logged in to add a note
What are item notes?
You can use item notes to make personal notes on any of your reading items. Notes are private to you and will not be shown to other users.
You can review your item notes from the list, the item page or from your profile page.
---
How do I create an item note?
To make notes, first you must be logged in. Once logged in, simply click Add note? next to the list item you wish to make notes on. You can also make notes at the bottom of every item's detail page.
Your note will be saved automatically as you type.
Have you read this?
You must be logged in to set a reading intention
What are reading intentions?
Setting up reading intentions help you organise your course reading. It makes it easy to scan through your lists and keep track of progress. Here's an example of what they look like: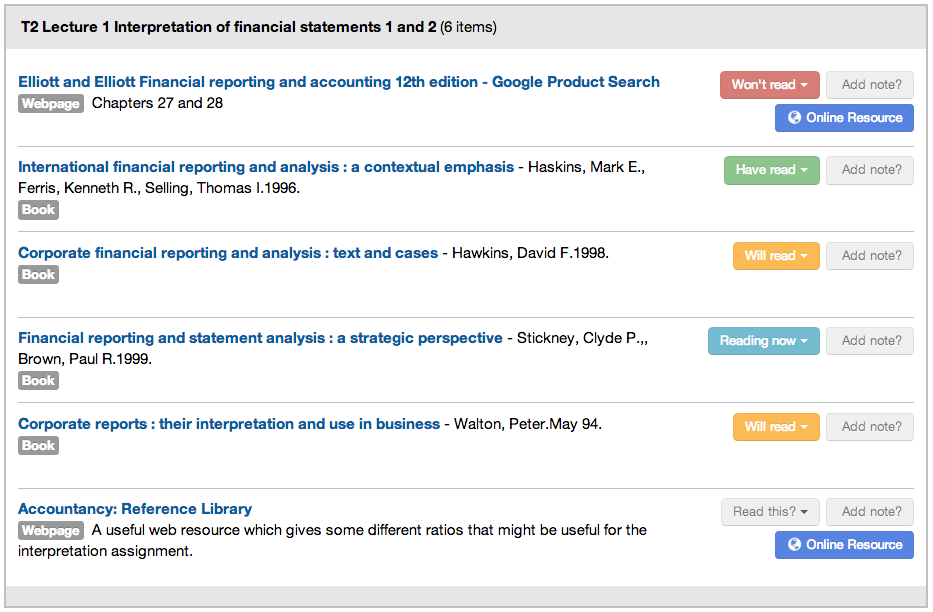 Your reading intentions are also stored in your profile for future reference.
---
How do I set a reading intention
To set a reading intention, first you must be logged in. Once logged in, click Read this? next to the list item you wish to set a reading intention for.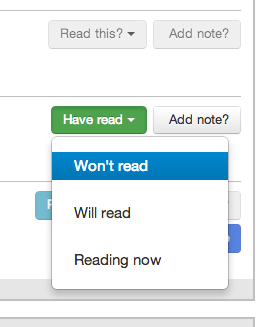 You can also set the reading intention from every item's detail page.