CLAS32335: Configurations of Gender and Sexuality
Teaching block 1 2017/18
General overviews, surveys and essay collections

37 items

Books in this section provide wide-ranging information that will be useful throughout the unit for many of the topics we shall cover. I have flagged up in the week by week topic sections when there is a particular essay from one of these books that is particularly relevant, but all of these collections are worth a browse over the course of the unit.

Sex and difference in ancient Greece and Rome - Mark Golden, Peter Toohey 2003

Book This is a useful collection which contains many interesting essays previously published elsewhere It offers an overview of research since the 1980s

Theories and Theorists

22 items

Eve Kosofsky Sedgwick - Jason Edwards 20090415358442,0415358450,0203004620,9780415358446,9780415358453,9780203004623

Book

Pre Binary, Binary, Post Binary

10 items

Making sex: body and gender from the Greeks to Freud - Thomas Walter Laqueur 19900674543491,0674543556,9780674543492,9780674543553

Book A hugely important book which discusses texts from various periods and genres to challenge the notion that 'sex' has ever been a given category sitting somehow outside of culture

Desire and Role Play

12 items

The lover's discourse: fragments - Roland Barthes 19900140125035

Book A personal favourite of mine which employs the conventional tropes of the discourse of love to question the experience of love and desire as 'personal'. Written as a series of meditations using the personal voice rather than as a conventional theoretical text.

Resistance and Subversion

26 items

Reading Sappho: contemporary approaches - Ellen Greene c19960520201957,0520206010

Book A reception-orientated collection of particular interest to people interested in the 'idea' of Sappho in later periods.

Lysistrata - Jeffrey Henderson, Aristophanes 19870198140495

Book full commentary on the Greek text - intro pp. xv-lxx provides useful background and summary

Sex and Violence

12 items

The Cambridge companion to Virgil - Charles Martindale, Cambridge Collections Online (Online service) c2006 (electronic resource)

Book The chapter by Ellen Oliensis pp. 294-311 is relevant to this topic.

Prostitution, Sexuality and Religious Cult

12 items

Roman sexualities - Hallett, Judith P ; Skinner, Marilyn B 1997

Webpage Catherine Edward's essay 'Unspeakable Professions pp. 66-95 is relevant to this topic.
All rights reserved ©
Profile Required
Reading intentions and notes are stored against your user profile. Please create a profile to use this feature.
My notes
You must be logged in to add a note
What are item notes?
You can use item notes to make personal notes on any of your reading items. Notes are private to you and will not be shown to other users.
You can review your item notes from the list, the item page or from your profile page.
---
How do I create an item note?
To make notes, first you must be logged in. Once logged in, simply click Add note? next to the list item you wish to make notes on. You can also make notes at the bottom of every item's detail page.
Your note will be saved automatically as you type.
Have you read this?
You must be logged in to set a reading intention
What are reading intentions?
Setting up reading intentions help you organise your course reading. It makes it easy to scan through your lists and keep track of progress. Here's an example of what they look like: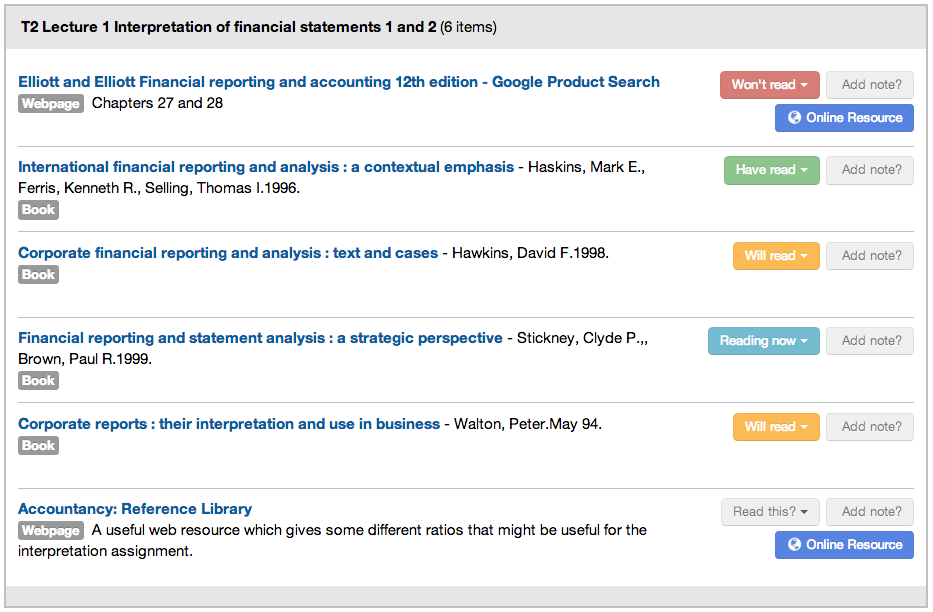 Your reading intentions are also stored in your profile for future reference.
---
How do I set a reading intention
To set a reading intention, first you must be logged in. Once logged in, click Read this? next to the list item you wish to set a reading intention for.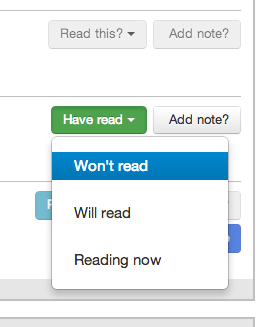 You can also set the reading intention from every item's detail page.